Brief Introduction to Our Commercial Roofing in Chapel Hill, NC
If you're a Chapel Hill business, you understand how important it is to get things done quickly, cost-effectively, and overall, efficiently. You can't wait for weeks to have a leaky or non-up-to-code roof repaired. You need results that will cause minimal downtime without an overt investment or too much hassle.
At A&M, we provide the highest quality commercial roofing Chapel Hill has available. We offer a wide variety of roofing services and roof types to choose from, and our team members are trained to not only meet industry standards but exceed them as well.
We can perform roof replacements, repairs, maintenance, and inspections at the best rates and in record time; keeping your business running effectively and continuing to serve the Chapel Hill area.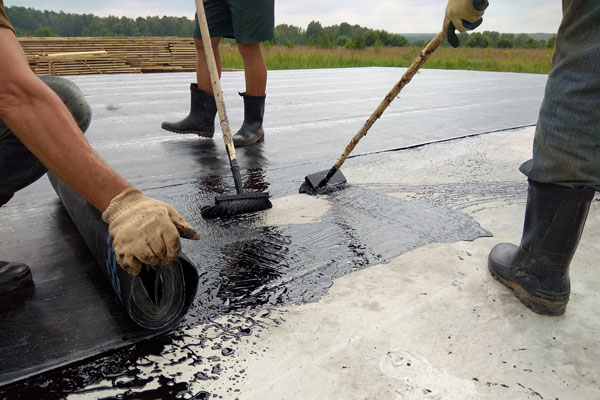 When Do You Need Commercial Roof Replacement?
Your business has to think about your bottom line. Obviously, that means minimizing costs in any way that is practical and preventing the need for costly investments with minimal payoff. So, you probably don't want to have to replace your roof any more than you have to.
When is it time to make that investment and renew your business's roof, though? Well, there are a couple of tell-tale signs.
First and foremost, your roof won't last forever. Roofs typically last between 20 and 70 years depending on the type of roof you have installed, and while some practices can get the most out of that expected lifespan, your roof will eventually need to be replaced regardless of whether or not it's damaged.
To tell when your roof is simply too old, have it inspected for signs of wear and tear. If it's looking well-worn and near the end of its lifespan, it's time to get it replaced.
Of course, unexpected disasters can happen, too. A sudden hailstorm, falling debris, and other high-impact events can ruin your business's roof regardless of how new it is. If your roof becomes heavily damaged by a natural event or freak accident, have it inspected to see if a replacement or repairs are necessary.
Finally, you might want to replace your roof if it has become obsolete. While residential homeowners usually don't have the capital to afford this for such long-term payouts, a business can benefit dramatically. It's not necessary, but if you see a technological jump such as that from asphalt shingles to energy-saving aluminum roofs, it might be wise to capitalize on it to lower your long-term overhead and increase profit margins.
Of course, another key focus should be preventing the need for a replacement due to the high costs of installing a new roof. Make sure to have qualified staff members or a hired service provider maintain the roof of your building as recommended by a professional Chapel Hill commercial roofing company. Also, when minor forms of damage pop up, whether from natural wear and tear or natural events, make sure to have them repaired immediately. This will keep the problems from being exacerbated and winding up far more costly to fix.
Different Styles of Commercial Roof
We have every type of commercial roof you might need to match the look and tone you want your business's aesthetic to have, as well as to offer you plenty of options to cover the various functional features you might require.
Shingles: If you have a more traditional business building, we can add traditional asphalt shingles that enhance your business's look while maintaining a low cost and fair maintenance requirements.
Metal: We offer metal roofs in a variety of designs and material options; from corrosion-resistant aluminum to hearty steel that last decades.
Flat-Top: Flat-top roofs are a favorite among business owners because they make getting on the roof for cleaning, signage repair, and advertisement changes safe and easy. These roofs are often made from concrete or asphalt, and they require regular cleaning. However, they're easy to maintain in general.
Best Commercial Roofing Materials
When it comes to commercial roofs, you want to squeeze as much out of your investment as possible. For that to happen, you need to invest in the right roof to ensure that you don't need to worry about repairs or replacements in the near future.
The best roofing materials for companies are:
Aluminum: Aluminum is extremely durable and resistant to wear and tear. It's also resistant to the corrosion that is common with steel roofs. However, it might not be aesthetically pleasing if that's important for your business.
Steel: Steel is cheaper than aluminum while maintaining almost all of its qualities. Unfortunately, steel roofs can rust if left uncared for. So, they require a little more maintenance to maximize their value.
Fiberglass Asphalt: Shingles or flat-roof toppers made from fiberglass-reinforced asphalt are relatively cheap, easy to maintain, and quick to install. The downside is that you might need a replacement sooner due to the cumulative water damage they take on after around 20 years.
What Makes Us the Best Commercial Roofing Contractors in Chapel Hill, NC?
A&M Premier Roofing has been helping area businesses for years, and we've developed a reputation for providing the best results without overcharging or causing unwarranted downtime for our clients.
This has been done through the quality of our commercial roofing Chapel Hill team. Each team member has years of hands-on experience, full licensing, and standard-exceeding training to ensure that they know how to get the job done right the first time. Beyond that, they're fully insured to protect you and them in the event of a workplace accident.
When you hire A&M Premier Roofing, you hire a service you can trust.
More Commercial Roofing Services We Offer in Chapel Hill, NC
We do roof replacements right, but we also know you don't always need a replacement. So, we also offer professional inspections, repairs, maintenance services, and consultations. If your roof needs work, A&M Premier Roofing can help.
Choose A&M Premier and the #1 Commercial Roofing Service in Chapel Hill, NC
Don't trust your business to unproven teams. If you want your commercial roof replaced, repaired, or simply inspected, contact the team you can trust: A&M Premier Roofing, Chapel Hill's best commercial roofers.