Brief Introduction to Our Roofing in Fuquay Varina, NC
Our residential roofing company in Fuquay Varina, NC, produces high-quality roofing results at competitive prices for all residents.
Our services include:
Complete, Comprehensive Roof Inspections
Repair Jobs of Any Size
Regular Roof Maintenance
Full Roof Installations
We work with homes of all designs, styles, and rooftops. If you're a Fuquay Varina area homeowner searching for roofing services, contact the best residential roofers in Fuquay Varina.
Our team members are licensed, certified, and trained to provide spectacular, reliable results faster than the competition and at rates you'll love.
We don't cut corners. You can count on us for a job well done.
When Do You Need Residential Roof Replacement?
No one looks forward to residential roof replacement. You probably want to squeeze out as much value from your roof as possible.
When has your roof simply had enough, though?
When do you know it's time to stop putting it off and call on the top Fuquay Varina's residential roofers for a full replacement?
First, understand how long your roof is supposed to last and when it was installed. Some roofs last twenty years, and some can last as long as 70 years.
If your roof is nearing the end of its predicted lifespan and is showing plenty of wear, it's time to get it replaced before it starts causing problems.
Damage is another thing to look out for. Hail, falling debris such as tree limbs or telephone poles, and other things can cause damage you simply cannot ignore.
If your roof has been severely damaged by any sort of hazard, contact a roofer immediately.
Finally, it is sometimes best to get a roof replacement when you're trying to sell your home. Having a new roof means your buyers won't have to worry about it any time soon. This can help you sell the house at a much higher price and get more back on your initial investment.
However, check with your real estate agent before doing this. It might not be necessary due to the market and the condition of your existing roof.
Damage and normal wear and tear are the most likely reasons you'll want to get your roof replaced. So, always practice preventative maintenance to squeeze as much life out of your roof as possible.
Things like removing debris as soon as it's safe to do so, inspecting your roof for minor issues regularly, and applying any applicable protection products when advised can significantly extend the life of your roof outside of natural, unavoidable issues.
On top of that, getting minor issues repaired promptly can minimize your chances of needing a replacement earlier than expected.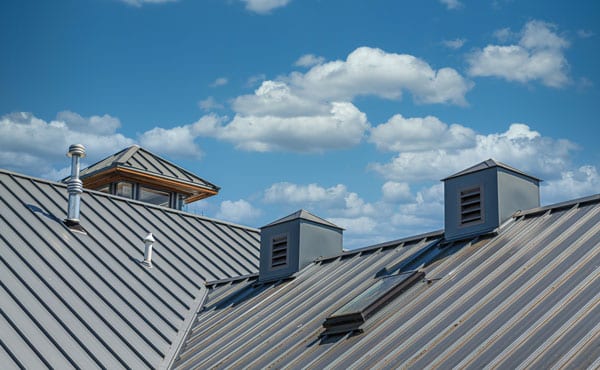 Different Styles of Residential Roof
Shingles: Our fiberglass-reinforced shingle roofs are reasonably priced, easy on maintenance, and cheaper to install and repair than many other roofs.
Stand-Up Metal Roofing: These roofs are easy to install and usually don't take more than one day. They're also highly cost-effective, but maintenance might be a concern if you cannot properly clean the roof when needed.
Metal Roofs: We offer several metal roofing options, such as aluminum and steel, to provide you with cost-effective, durable, and energy-saving roofing. These are a bit more costly, but they pay off in dividends down the road.
Stone and Slate-Inspired Roofing: Stone offers a great mix of aesthetic appeal, heat management, and durability. However, it's more costly and requires more work to install. If you can afford it, it can save you a lot of money down the road or add a lot of value to your home before you sell it.
What Makes Us the Best Residential Roofing Contractors in Fuquay Varina, NC?
A&M Premier Roofing stands out as the best residential roofing company in Fuquay Varina because of our dedication to excellence. Not only do we check off the basics, such as full licensing and insurance for every job site, but we all hold ourselves to the highest standards when training our team and completing a project.
Our team members are the top roofers in the area and have years of experience under their belts to ensure you get stellar results every time.
We also hold the highest work ethic standards and attempt to complete every roof within one day.
While that's not always possible, we rarely take longer than 2 days to complete a roofing project, and we never cut corners despite the focus on getting your roof installed fast.
More Residential Roofing Services We Provide
We don't just offer roof replacements. We offer a full suite of roofing services:
Repairs
Regular Maintenance
Inspections
Consultations
If you need residential roofing work done, regardless of what it is, A&M Premier Roofing can help.
Choose A&M Premier and the #1 Residential Roofing Service in Fuquay Varina, NC
Getting a new roof or having your existing roof inspected or repaired isn't something to take lightly. The value of your home, your safety, and your wallet are all on the line when the integrity of your roof is in question.
If it's time to get a new roof or have your roof repaired, you need professionals who can get the job done right the first time and in as little time as possible.
Our licensed contractors are in-house specialists. We're also fully insured to protect you and our workers, and we've built a reputation around Fuquay Varina for providing the best service at the best rates.
Don't leave your roofing needs neglected or in the hands of sub-par contractors: contact the most trusted residential roofer in Fuquay Varina. Make sure your residential roofing job is done the right way.