There are two main types of roofing used nowadays. Metal roofing and shingles more or less dominate the market. Which one is best, though? 
Well, there are some glaring differences between the two, and for an unaware homeowner, making the wrong decision can have expensive consequences. 
We'll compare metal roofing vs. shingles here and show you where each option excels or falls short. 
Metal Roofing: 
Metal roofing comes in a number of options, from steel options that are remarkably heavy-duty, to cheap, snap-together, aluminum sheets. The type you get will have a huge impact on the performance of your roof, but they all have some similarities. 
Pros of Metal Roofing: 
First, we'll cover the pros. 
Some of the options available with metal roofing are exceptionally cheap in terms of both material costs and labor costs, and they can even be less expensive than high-quality shingle roofs. 
Then, you have to consider the speed of installation with certain metal roofing options. Metal roof paneling can be snapped together in less than a day, and that makes it easy to get your roof replaced without needing somewhere else to stay or living in a home without a roof for days or weeks. 
Finally, the large number of metal roofing options gives you room to mess around with design elements for your home, and while that's not functionally important, it is a big part of being a homeowner.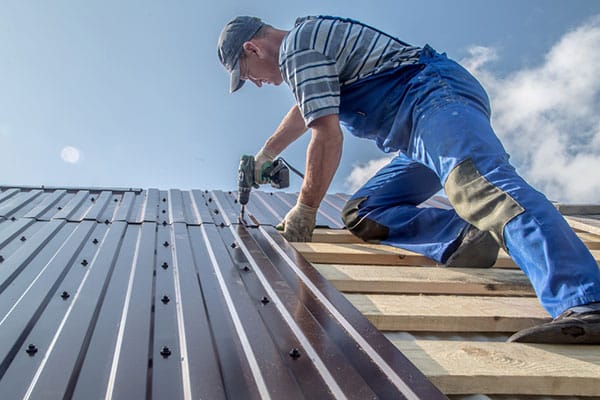 Cons of Metal Roofing: 
Metal roofing isn't perfect, though. First, all of your options are prone to rust or oxidizing, and that can happen very quickly in humid areas or places with a lot of rain and snow. Furthermore, extreme rust completely destroys the roof. So, you might be replacing it faster. 
Then, you have to consider that the cheaper, faster options that give metal roofing most of its pros are prone to be damaged without much abuse. In short, you'll be replacing your metal roofing pretty frequently. 
Shingles: 
Shingle roofing also has its own pros and cons that you have to take into consideration.
We'll start with the pros. 
Pros of Shingle Roofing: 
The main benefit of a shingle roof is that it balances all the different factors of what makes a good roof. Is it the strongest? No. However, it is very strong and resilient to damage. Is it the cheapest? Not with certain shingle types. However, it is far more affordable than most other roofing options. It's also fairly easy to install, and you shouldn't be without a roof for more than a week, and the labor costs are minimized. 
Finally, a shingle roof is easy to repair. Sections can be repaired without requiring extensive changes to the rest of the roof, and this helps you minimize repair costs. 
Cons of Shingle Roofing: 
Shingle roofs aren't without fault. They do take longer to install than some fast-install roof types, and some shingle types don't last as long as you'd expect. With a shingle roof, you really want to go for a mid-range option instead of just picking the cheapest materials available. 
Final Verdict: 
In most situations, we recommend getting a shingle roof professionally installed by experts at A&M Premier. Metal roofs have some advantages in certain applications, but the average person choosing between metal roofing vs. shingles is going to get way more out of a shingle roof.